Coveralls Notifications
Every revolution needs great communication, lest the brave men and women fighting under the banner of freedom fail from lack of information. To support the cadres of test writing heroes, Coveralls.io has now released granular repo by repo notification capabilities.
Currently, pull request commenting only works with CI's that provide a pull request number at build time (Travis, CircleCI, TDDium to name a few). If you have a private repo that you would like to receive pull request comments on, you will need to allow pull access for our Coveralls bot: @coveralls
WHERE TO FIND THE SETTINGS
If you would like to change the default notification settings for a repo, first go to the repository's detail view by clicking on the repo name from your repo index. On the detail view, you'll now see a nice, (not)shiny, new button labeled notifications:

SUPPORTED SERVICES
The individual settings for those services can be found on the menu on the left, and as we add more notification support the additional service configuration links will be added there. We are currently supporting custom notifications by Email: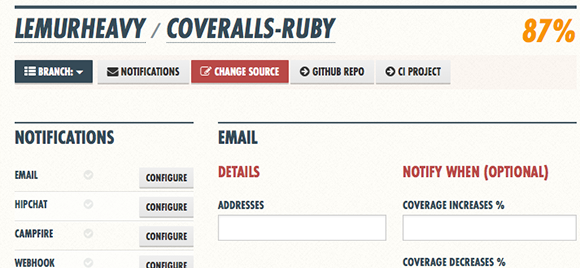 As well as Hipchat, Campfire, and by webhook to enable you to have the flexibility to use the Coveralls notifications however you'd like. Below is a screen grab of using the web hook to pipe coverage change data out to Requestb.in

PRETTY NOTIFICATIONS
Some of these notification systems allow for HTML notices in which case you'll be able to get a nice message that includes the Coveralls coverage badge, like this message on Hipchat:

The Coveralls application doesn't actually send out any emails unless you specifically set it to in a repo's notification settings. So if someone in your organization hasn't turned the Coveralls comment bot off in the settings and you are getting a flood of Github notifications:
You can disable those notifications by unwatching a repo that you are getting unwanted notifications from here: https://github.com/watching or by changing your settings for all watched repos here: https://github.com/settings/notifications to not send you emails.